The William Pitt / Julia B. Fee Sotheby's International Realty website was a large project with many different challenges. Two real estate companies, William Pitt in Connecticut (who had just purchased LItchfield Hills Realty) and Massachusetts & Julia B Fee in New York, had the same owners and wanted to combine their market areas without doing a massive rebrand, as both brands had long local histories and were very well known in their areas. For this we spent several months researching and visiting the different areas to get a feel of what they were trying to sell without alienating any of their market areas.

Our Challenge: How can we combine five distinct market areas and three brands into one cohesive website?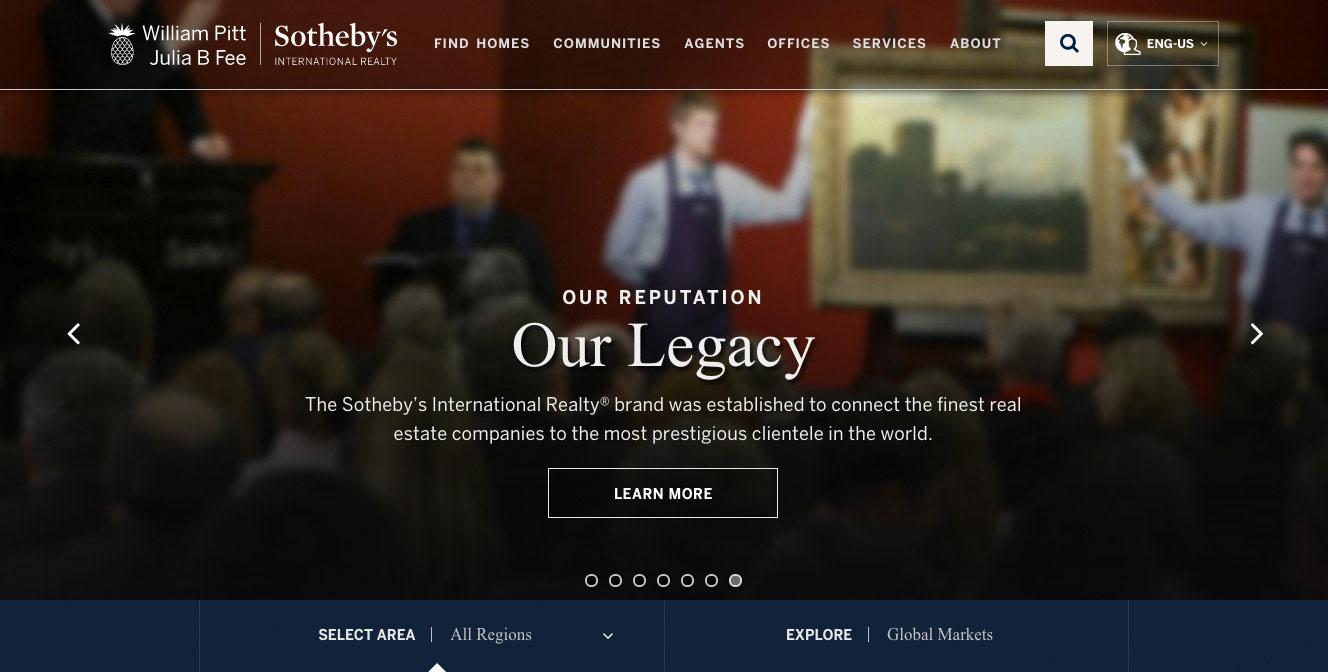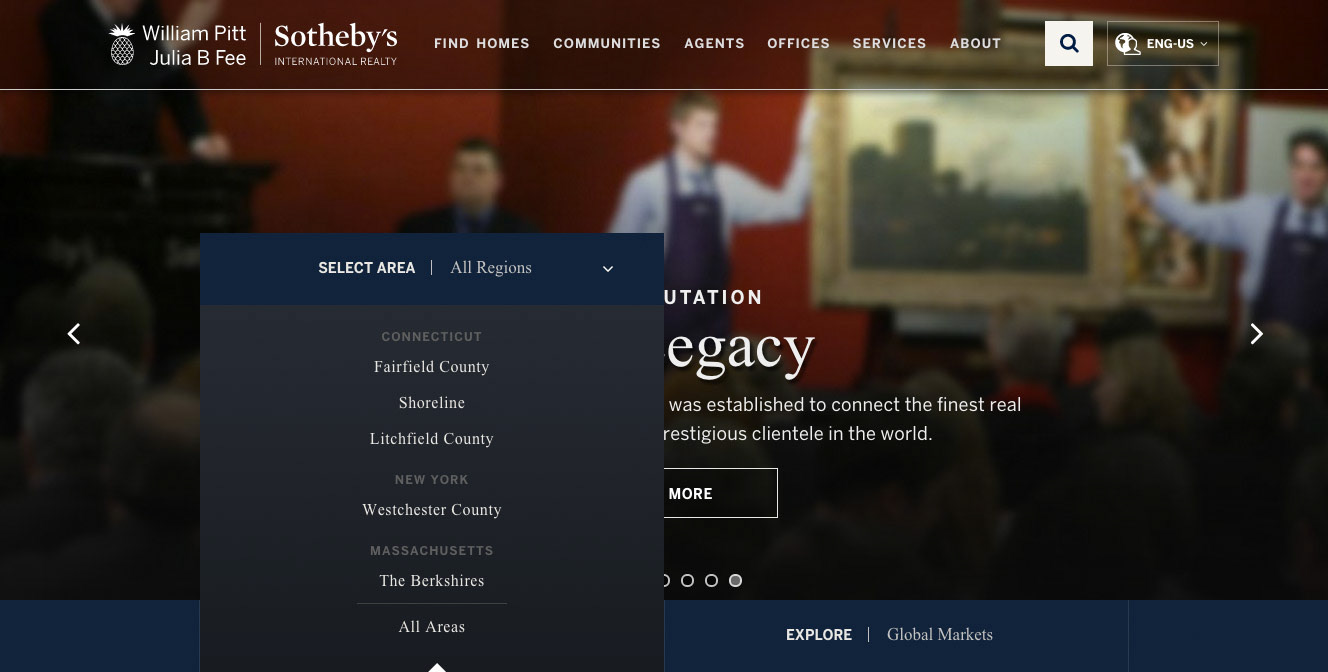 One of the solutions we had was an area selector on the homepage and along the top menu (within the preferences button on the top left). When an area was selected, say, Fairfield County, the homepage content and various content and data througout the site would change to be Fairfield County specific. Fairfield County is a community mostly made up of New York City commuters so if you were looking for a country home you probably wouldn't be looking here. And conversely if you were looking only for something in the country you could switch to the Litchfield County or Berkshires areas and all the preferences would change to those.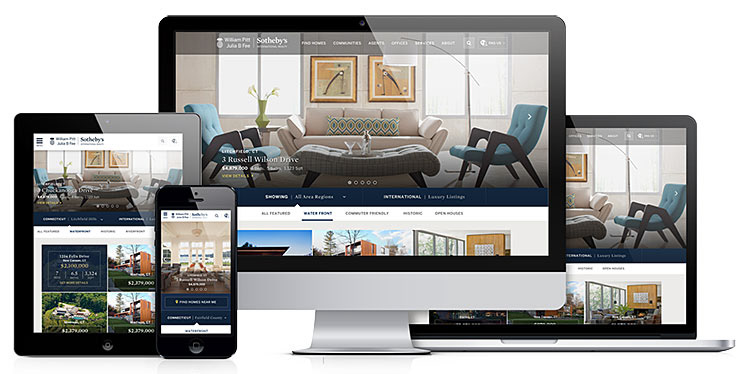 The previous William Pitt website had a very bare-boned mobile website, that was a templated option from their parent company. With it was the same issues that came with their previous templated website in that wasn't relevant to any of the needs that homebuyers in their market areas had. We designed their entire site with the mobile experience in mind—not just for the users who are looking for homes, but for the agents who are selling the homes. 

Detailed Region & Neighborhood Pages

We wanted to show that William Pitt/Julia B. Fee were the experts in their areas so we created very detailed county and area/town pages. This example is for Fairfield County, where you can see the county-specific things that you would want to know right off the bat: where it's located, what the lifestyle is like, how is the market, and, of course, properties (this is a real estate site after all).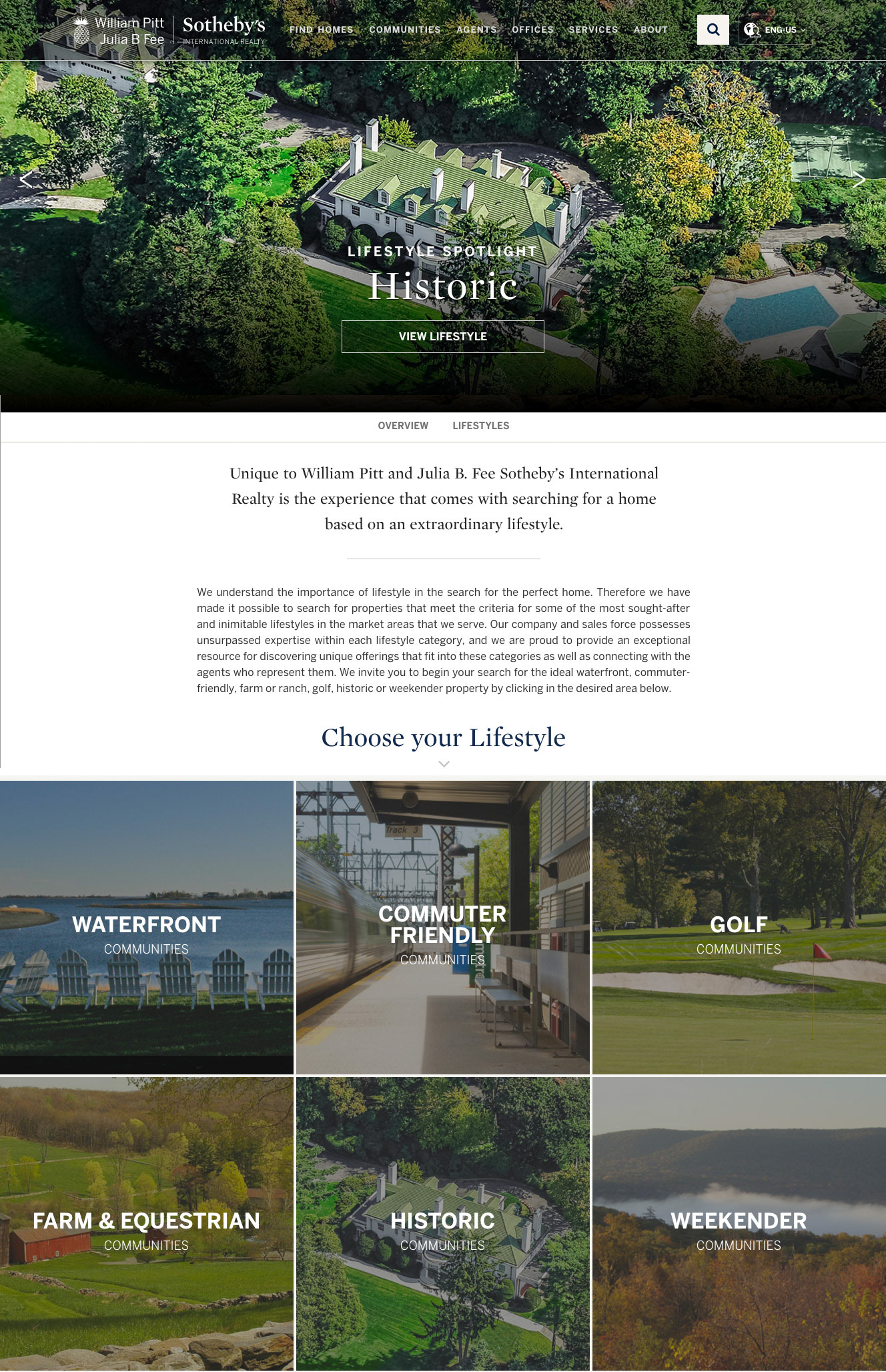 Another way we accommodated the large and varied market areas was to include major area lifestyles. This way if you were interested in waterfront properties but weren't set on a particular county or city, you could browse all listings that were on the water.
Personalized Commute Times
Another big issue facing homebuyers in Westchester and Fairfield Counties was the commute to Manhattan. We created a tool that would calculate the commute to any address in New York City from each property viewed. In the example below you can see the user account where you can customize the site to your needs. The "Calculate my Commute" widget would populate commute times throughout the site, as seen in the second example image below.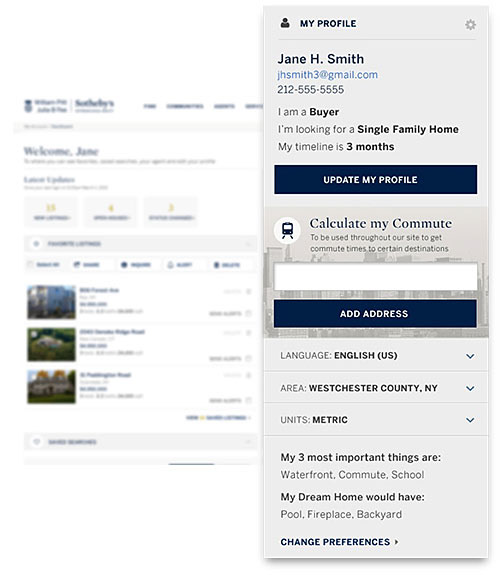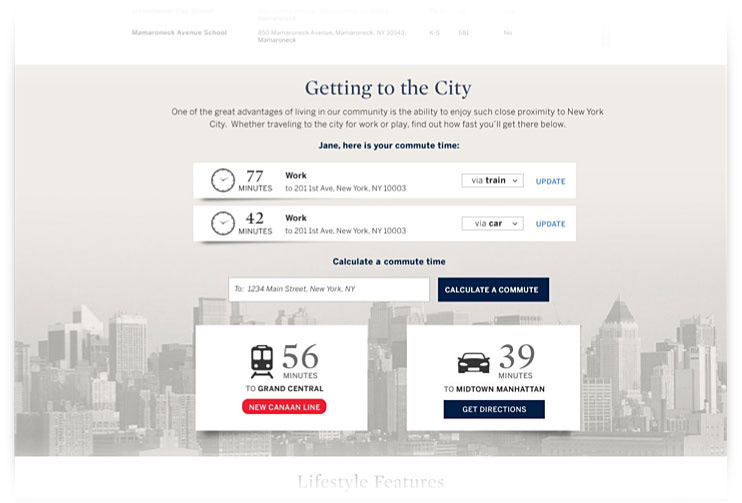 Individual Property Websites
We also created a tool that created a website for every new property that William Pitt wanted to list. For the agent, or office manager, who wanted to create a brand new website as part of their home's marketing suite all you would need to do is enter in the MLS# of the home (the MLS# is the ID number on the region's multiple listing service for real estate) and our system would create a beautiful website with its own URL and accurate and customizable information.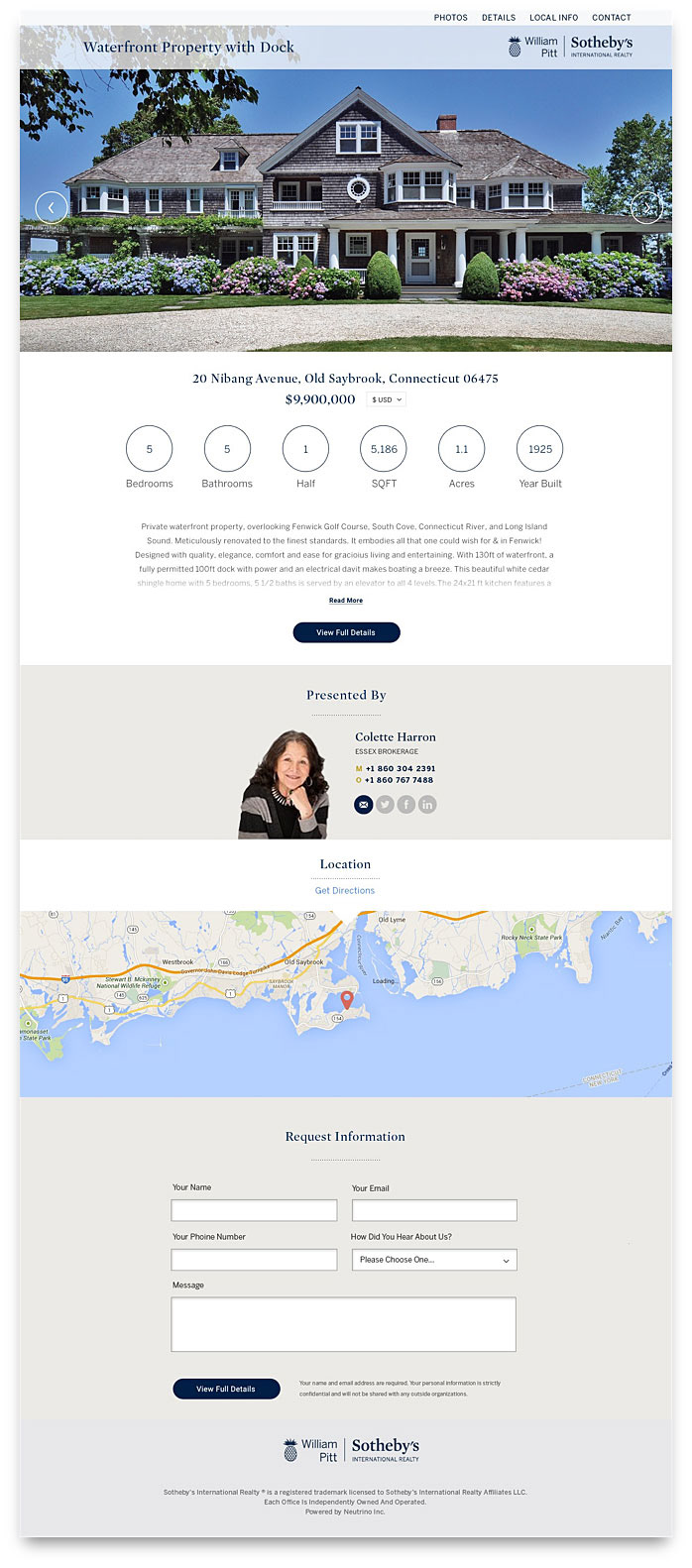 These websites would be on-brand and automatically filled-in with all the important information and the agent's contact info, photo, and an easily accessible contact form. 
This website project was completed while part of the
Neutrino, Inc
design team (I was Art Director and overall Senior Designer), and under the supervision of our Creative Director and the Marketing Director and her team at William Pitt. Much thanks to everyone involved!
This website recently won the REALTrends 2015  #5 Best Overall Real Estate Website (http://realtrends.com/2015-website-rankings/index.html) and #1 for Best Design, #4 Best Mobile Site, #3 Best Neighborhood Page
An Official Honoree for Real Estate at the 2016 Webby Awards.